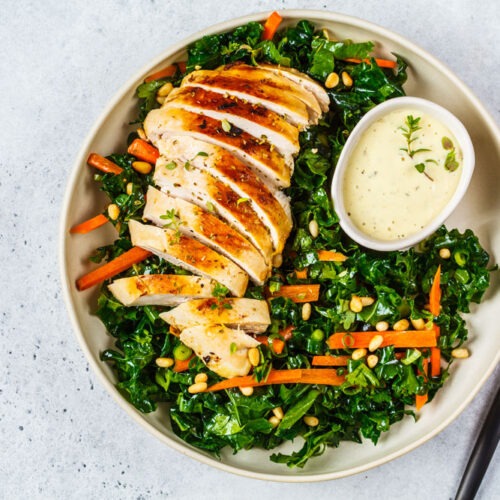 Uplifting Chicken Kale Caesar Salad
This deliciously decadent, nutrient-dense salad contains all of the building blocks necessary for building elastin – Vitamin C, Omega-3 fatty acids, Protein, and Carotenoids.
Ingredients
SALAD INGREDIENTS:

1

bunch

Dinosaur Kale

washed and thinly sliced

4

oz

cooked chicken, cut into cubes or strips

can substitute for tofu, steak, or any other preferred protein of choice

3

tbsp

grated parmesan cheese

1/2

red onion, thinly sliced

Salt and pepper to taste

Handful of croutons

optional

DRESSING INGREDIENTS

1

egg yolk

1

lemon juiced

1

tbsp

white vinegar

1

tbsp

Dijon mustard

1

tbsp

Worcestershire sauce

1

head

garlic

2

cup

olive oil

3

tbsp

grated parmesan cheese

1

anchovy

1/4

tsp

cod liver oil

1

tsp

honey

Salt and papper to taste

1

tbsp

chili flakes, for some optional added spiciness

optional
Instructions
Peel all garlic cloves and place them in a small, oven-safe pot. Add enough olive oil to cover (about 2 cups) cover, and bake until tender (about 2 hours). Let cool, strain the oil, and set both aside for later.

Now to make the dressing! Using a blender or food processor, add all dressing ingredients except for the garlic oil and blend on high for 30 seconds. Then slowly drizzle in about 1 cup of your garlic oil until the dressing has reached your desired consistency. It should be thick but also easy to toss your kale in.

*If you have any extra garlic oil, that's great! You can always save it in the fridge for many other delicious recipes.

Lastly, assemble your salad to your liking! Throw all of your dry ingredients into a bowl and give them a toss before dressing. Remember that dinosaur kale leaves' firm texture can hold a lot of dressing, so feel free to use it liberally. Massaging your kale with your hands is also a wonderful way to not only evenly incorporate each ingredient but also improve the digestibility of your kale.

Finish with a few spirited twists of fresh cracked black pepper on top and enjoy!