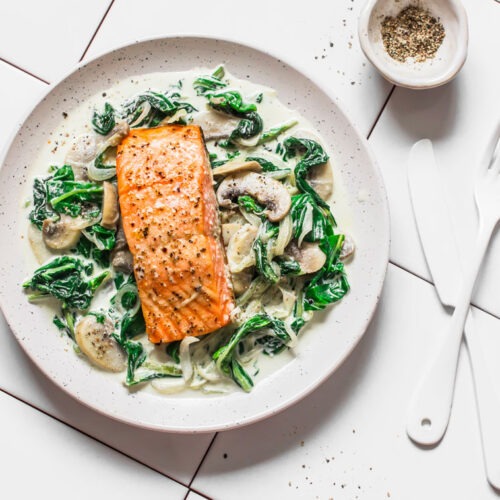 Dreamy Creamy Mushroomy Salmon
This delectable salmon recipe is not only "d-lightful", but jam-packed full of vitamin D, your sensitive skin's new best friend.
Ingredients
2

12 oz salmon fillets

5

tbsp

extra virgin oil or coconut oil

1

lb

shiitake mushrooms slices

(these mushrooms have the highest vitamin D content, but if you can't find them, don't sweat it. Any mushroom will do!)

1/2

small onion, minced

4

garlic cloves minced

1

handful of spinach

2

tsp

fresh rosemary

if using dry, use 1/2 teaspoon instead

1

small-medium sized onion roughly chopped

1/4

cup

dry white wine or 1 tablespoon of any vinegar on hand

2

tbsp

bone broth

preferably homemade

1/4

cup

heavy whipping cream or plain greek yogurt

preferably grass-fed

Salt and pepper to taste
Instructions
Preheat oven to 300ºF. Cover a baking sheet with parchment paper and place salmon on sheet with skin-sides down. Season with salt and pepper and bake for 10-15 minutes. Remove from heat when you notice white bubbles on the surface of the fish.

While your salmon cooks, heat 2 tablespoons of olive or coconut oil in a large pan over medium-high heat. Add mushrooms and cook, stirring frequently until they begin to soften. 

Add remaining oil along with onion, garlic, and rosemary and stir together until fragrant (about another 3-5 minutes)

Add the wine, or vinegar, handful of spinach, and bone broth and stir often until completely evaporated and the spinach has thoroughly sautéed, scraping the flavor up from the bottom of the pan

Reduce heat to low and stir in cream or yogurt until incorporated. Continue stirring and simmering until desired thickness is achieved.

Taste season with salt and pepper to your liking

Remove from heat and serve salmon with a heaping spoonful of your mushroom cream sauce on top & enjoy!