YES!
Ceramides are the glue (lipids or fats) that hold our skin cells together to keep our skin barrier intact and healthy.
What are ceramides?


Ceramides are fats or lipids that are found in skin cells. They can make up to 50% of your outer skin layer, or epidermis.
Ceramides add moisture.


Ceramides are important for retaining your skin's moisture and preventing the entry of germs into your body. With age, If your skin's ceramide content decreases, it can become dehydrated. You may develop skin problems like dryness and irritation.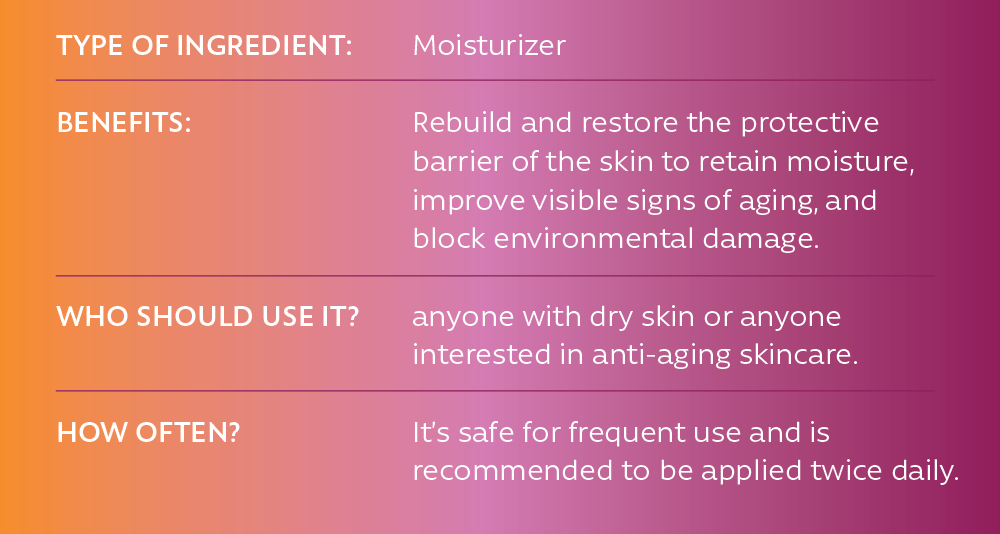 Try these products to include ceramides in your skincare routine!
THE SPEAK COLLECTIVE Rose + Peach Mist

When your skin starts feeling tight and dry, our Rose + Peach Hydrating Mist will restore its luster. This botanical blend helps boost hydration and improve skin barrier function with natural ingredients like peach and yuzu ceramide. The May Rose flower delicately scents this facial mist. It is a special type of Rose found in the South of France near Grasse, the French capital of fragrances and flavors. Their name comes from the fact that they blossom only once a year in May for three weeks and are exclusively collected by hand.
FREE + TRUE Bright Side Vitamin C Serum

This innovative day serum plumps and firms while regulating sebum production, strengthening the integrity and resilience of the skin. And thanks to niacinamide, breakouts don't stand a chance. Packing a one-two punch, Bright Side reduces sebum production and increases ceramides in the skin. With every use, the inner glow radiates. Perfect for all skin types, particularly those 30+ who seek a heavy-hitting serum designed to help them age gracefully.

BLÜH ALCHEMY Botanic-Retinol Cell Renewal Concentrate

This transformative concentrate is powered by Bakuchiol, the only plant-based alternative to retinol clinically proven to dramatically improve skin texture, collagen production, firmness, and elasticity while decreasing the appearance of wrinkles, hyperpigmentation, and acne. Further boosting this formula is our advanced bioactive hydration complex and over 15 of the world's most innovative ingredients, including cellular extracted flame tree, emu apple and Tasmanian kelp, cacay oil, watermelon bioferment, and vegetable ceramides. All work synergistically to reverse the signs of premature aging while delivering lasting hydration, optimal nutrition, and protection.