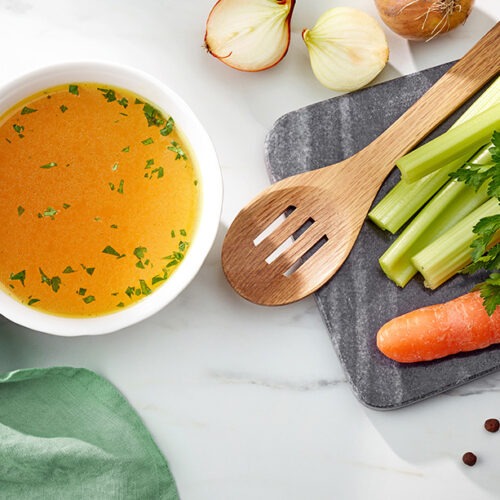 Slow-Cooker Bone Broth Recipe
This firming, nourishing, best-thing-since-sliced-bread recipe is not only delicious, but easy to make, and extremely affordable.
Ingredients
Any Poultry Carcass (chicken, duck, or turkey), or any mixture of bones, preferably from wild, pasture-raised, and ethically sourced farms

Purified Water

1

tbsp

1 Tablespoon Apple Cider Vinegar

1

Stalk of celery or celery leaves roughly chopped

2

Carrots or carrot leaves roughly chopped

1

Small bunch of parsley

1

Small to medium sized onion roughly chopped

Any other misc. vegetable scraps (i.e. brussel sprout ends, broccoli stems, cauliflower stems, etc)

1

parmesan, or other hard cheese, rind

optional
Instructions
Place carcass and/or bones, all vegetables and/or scraps, and optional hard cheese rind into your slow cooker

Toss in your tablespoon of apple cider vinegar

Fill with filtered water to cover all bones completely (it's okay if there are a few poking out of the water a bit)

Give everything a little stir and set your crockpot on low to cook for 23 hours

When the crockpot is cool enough to handle, pour the broth through a sieve into a storage container and store them in the fridge for 5-7 days, or freeze for up to 6 months

Season with salt or pepper to taste, or can be used as a base for soups or stews
Notes
Bonus Tip: The leftover bones make for excellent dog treats! After 24 hours they should be soft enough to simply crumble up and toss on top of Fido's food. This broth recipe is truly a gift that keeps on giving!